It's the beginning of a new adventure for Mindbaz! We have just become independent from M6 Digital Services (again) to write a new chapter of our story with our team.
This is an opportunity for us to look back on how we got here, but also to present some of our development plans for the coming months.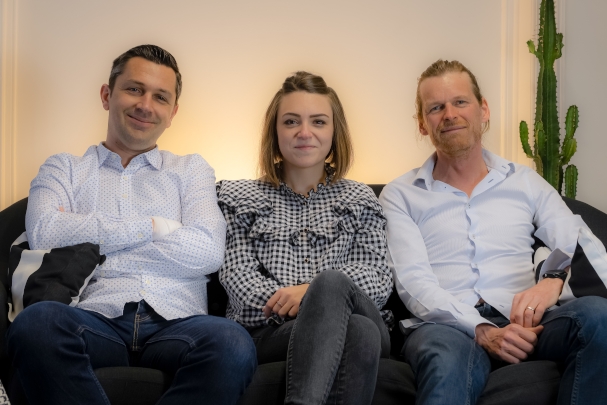 A complementary trio at the Direction
Coralie Ladent (COO), Sebastien Lemire (CEO) and Pierre-Yves Dubreucq (CTO) met at Oxygem and worked together for more than 5 years.
The acquisition of Mindbaz seemed an obvious choice and we are accompanied by 2 business angels and the investment fund Finorpa.
Coralie and Sébastien have been running the business since its commercial launch in 2013: Coralie as Director of the Business Unit and Sébastien as Sales Director for the technical activities of M6 Digital Services.
As for Pierre-Yves, he accompanied Mindbaz throughout its growth as Technical Director and then Director of Odiso (a hosting company) before joining Scaleway as VP of Bare Metal.
True team spirit
We are lucky to have some team members that have been with us since the beginning, and the people who have joined us over the years have brought diversity and a richness of spirit, coupled with a natural benevolence, some of our core values.
We are accompanied by email experts and product managers but also talented developers, database administrators and devops who are always looking to provide the best service and features adapted to our customers.
Their motivation, kindness and thirst to learn are unfailing and make it a pleasure to work every day.
Email marketing, a long story…
As previously mentioned, before becoming a part of M6 Digital Services, Mindbaz was a company of the Oxygem group founded by Didier Colombier and Vianney Poissonnier.
Created in 2008, Mindbaz was an email broker and worked on database cleaning and enrichment.
In 2013, the company pivoted and decided to market a SaaS email routing solution after several hours/weeks/months/years of exchanges with customers and partners, designs, writing thousands of lines of code, deployments, automations, tickets, tests…
Support and deliverability: two major areas of Mindbaz's development
We have always emphasized our business expertise related to emailing, which we have acquired over several years through strong support to our customers. We work alongside our users and accompany them daily on emailing issues and in the implementation of their email strategy, but also on best practices regarding deliverability so that their marketing campaigns end up in the inbox!
Sending an email is simple, sending millions of them should be just as simple for our customers. This pandemic has reminded us of the importance of the email channel, which plays an essential role in communication.
Enhancing features of our marketing solutions
Mindbaz will continue to bring more features to its customers with the mission of providing a simple and intuitive solution. We have set up a continuous improvement process for both emailing and marketing automation features and we clearly want to enhance the technology of our products.
Developing partnerships with our peers, startups and online businesses
Already interconnected with some online businesses and retailers, we intend to increase our partnerships with solutions and services for which deliverability is essential. To do this, we will provide an SMTP relay and a suite of libraries that will facilitate the technical integration of Mindbaz.
Sending email is one of the basics of the internet, that's why we are particularly concerned with the quality and robustness of our platform. Despite its age, the world of email continues to evolve with new standards such as BIMI or AMP. That's why we are constantly on the lookout for new innovations that our partners can benefit from, especially through easier interconnections.
Direction, Europe!
With 25% of its revenue generated outside of France, Mindbaz aims to reach 50% within 4 years. The opening of a new office in Barcelona in a few weeks is the first step to developing the local team, already on location! Northern Europe is also an integral part of the business development plan that will be deployed as of 2022.
This new step in our development strategy will allow us to pilot our roadmap in total autonomy, to be even closer to our customers and meet or even anticipate their business needs.
About Finorpa
The FINORPA group is one of the main actors in equity and quasi-equity financing for SMEs in the North of France.
Finorpa Gestion, a management company approved by the Autorité des Marchés Financiers (AMF), has an intervention capacity of about €15 million per year.
With an investment capacity of 80 M€, the Finorpa Group invests in SMEs to finance their creation, development and acquisition projects. In 30 years, the Finorpa Group has supported more than 2,000 companies in sectors such as manufacturing, services (distribution, consulting, transport, ICT), health, etc.