65% of the population says they can't live without email. Prioritizing channels is one of the challenges for marketing experts in 2023. Between social networks, ads, podcasts or webinars, email is doing well. 
Email, which is free from the uncertainties of algorithms and whose database belongs to the company, has many benefits. The Data & Marketing Association (DMA) presents an exhaustive report on the 18th edition of this study, initiated by the Data & Marketing Commission of the DMA France on the email routing activity in France.
Here are statistics from the DMA study that you can use for your marketing strategy.
The number of emails sent in France is on the rise
Volume: 142.16 billion emails routed (1.64% increase)
What are routed emails?
A routed email is an email sent by a company from an email software.
An increase in routed emails in France
In 2022, companies sent 142.16 billion emails.
This volume represents a 1.64% increase compared to 2021. Although this figure has increased slightly in recent years, it is rather stable since 2013.
Email routing aligned with the French economy
After years of pandemic affecting the French economy, the GDP of the country will increase by 2.6% in 2022. Based on reported data from 12 email industry players, collected by The Data & Marketing Association (DMA), emailing revenue even increased by 4% in 2022.
This figure is consistent with the importance of email for the French. Often compared to social networks, email has major benefits for companies.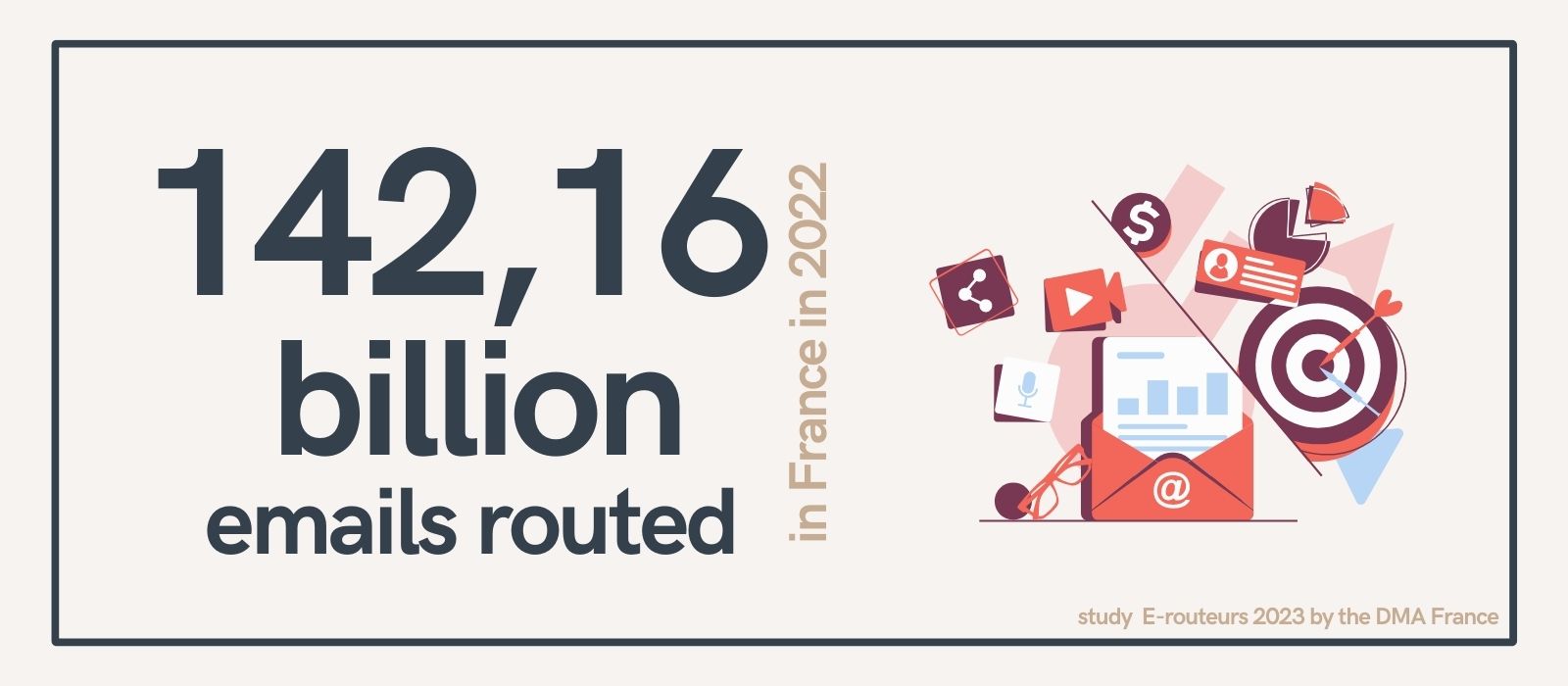 Email and the French
Companies and their favorite channels
Social networks
Companies do not own their social media posts. They don't have control over the scope of their posts either, but are instead dependent on the vague algorithms of social media. 
Of course, social networks can reach a very large audience: 24 million French people use Instagram every day (Hubspot x Mention engagement report). 
The French spend an average of 1 hour and 41 minutes per day on social networks. (Digital Report wearesocial x Hootsuite, 2021)
Another figure that shows the importance of social networks in daily life: according to the Digital Report, the French have an average of 6.8 accounts on social networks.
Websites and blogs
More reassuring for marketing professionals, websites have the advantage of offering content that is under the control of the brand. 
Although it is great for convincing, converting and building loyalty, the challenge remains to reach the audience and make them visit the website or blog. 
According to Hubpost, 92% of companies that use inbound marketing see an increase in traffic and leads generated. With 600 million blogs online, users have plenty of options. So how do you stand out in this ocean of content?

Emails
Email marketing is a very efficient way to reach out to your audience and create a bond. It has interesting statistics for both B2C and B2B companies. 
According to the DMA, xx French people have at least 2 email addresses. One for work emails and one for personal emails. But also at least one other mailbox for advertising emails and newsletters that are less interesting to them. 
70.1% of them check their main mailbox several times a day. This figure drops to 36.5% for the secondary address. 
Less than 1% check their mailboxes less than once a month. 
A reassuring figure for email professionals who can rely on their databases to reach their audience. 
Of course, some rules apply to email marketing to ensure this. 
Webmails, such as Gmail, Orange, Hotmail, Yahoo or LaPoste, filter the emails beforehand. 
They can decide to deliver or not your campaigns, but also to send them to the spam folder. 

Another possibility, for users of some webmails like Gmail, a promotion tab has been created to pre-sort the emails in the users' inbox. 
But even before being sent to a tab, it must pass the filters of webmails. To increase your deliverability rate, following the best practices of webmails is essential. 
Every week, the Mindbaz deliverability team shares tips for your email campaigns. 
Statistics on email marketing
Being aware of your audience's emailing statistics and habits allows you to optimize your campaigns. 
You have 2 seconds to trigger a user to open an email. To achieve this, you can work on your sender name, your email subject and your pre-header.
Display Name: How to choose the best sender name for your emailing campaign?
59% of online users open an email based on the relevance of the subject line. 
54% open an email because they trust the sender.
Statistics that impact your email deliverability
Webmails penalize your email campaigns depending on the results, your bounces, your unsubscribes, your complaints… Let's have a look at the thresholds you should not exceed: 
8% of bounces

1,4% of unsubscribes

0.08% of complaints 
A clean database for your emails
To optimize your emailing statistics, you must first work on collecting emails. 
Make sure you only have opt-in emails, i.e. that your contacts have all given their explicit consent to receive your email campaigns. 
Clean your databases regularly. Renewing a database is part of the recipient cycle. It is estimated that between 20% and 30% of email addresses are lost each year. 

By following the latest email developments and following the best practices of webmails, you increase your chances to optimize your email campaigns. 
Remember to follow us on Linkedin, where we share deliverability tips twice a week. Mindbaz also tweets every day about email marketing.