Also called Apple MPP, the new feature was created for iPhone users. Apple's goal is to strengthen the privacy of its users. When users choose to activate this option, Apple blocks the feedback of information on email activity.
The update is significant and affects certain email campaign KPIs, and therefore, our emailing strategies. Decryption and advice.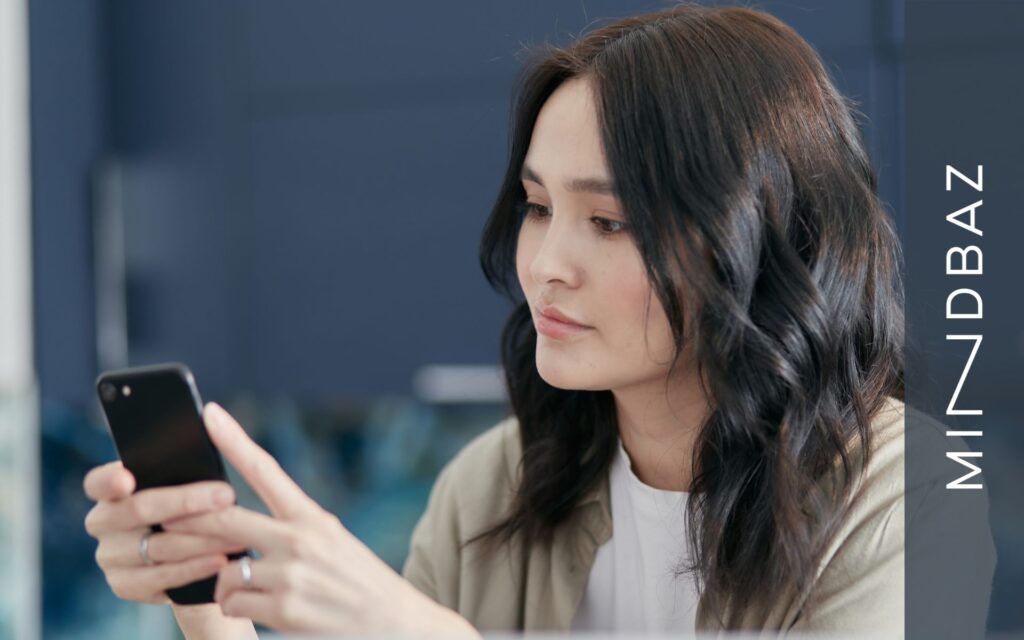 What is Apple MPP? 
The details of the Apple update
With the IOS 15 update, Apple sparked concern among email professionals and marketing managers. Among the new features, "Apple Mail Privacy Protection" is drawing attention: Apple users will now be able to hide their IP address,  while content is downloaded privately. 
In practice, it is now impossible to use a pixel to detect email openings in Apple Mail. Moreover, geolocation can no longer be detected through the IP address. 
With this feature, Apple downloads email content remotely before delivering it to the recipient. That means that if a pixel was used in the email to track an opening, an opening will automatically be recorded in this case. However, it wasn't the recipient who opened the email, it was Apple.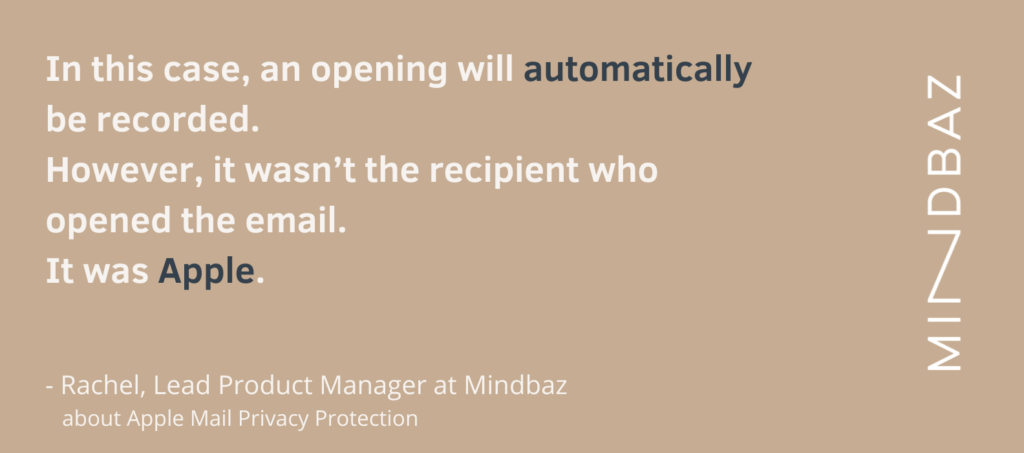 An automatic open isn't a human open
What does that mean? 
An "open" will be systematically recorded for your contacts who use Apple Mail and Apple MPP, whether they actually opened the email or not. It is therefore no longer possible to determine exactly which Apple Mail users have opened an email.
iPhone, Ipad, Mac… Which Apple devices are concerned? 
We are talking about contacts who use Apple Mail. Most of the time, they are on iPhone, sometimes on iPad. Your contacts who use Gmail on their iPhone, for example, are not affected by Apple Mail Privacy Protection.

An optional feature… but popular.
Mail Privacy Protection is an optional feature. But it seems to be appreciated by Apple users since its release. 
They are presented with two options:
"Protect Mail activity"

"Don't protect Mail activity"
Which one would you choose?
Should we be concerned about Apple Mail Privacy Protection?
Your statistics will be impacted. But your return on investment will not necessarily be affected.
Do I need to take Apple MPP into account in my emailing strategy?
Ask yourself : 
What is the percentage of Apple users in your audience? 

Of this percentage, how many check their email with Apple Mail? 

Does your user on Apple have any reason to behave differently than a user on Android?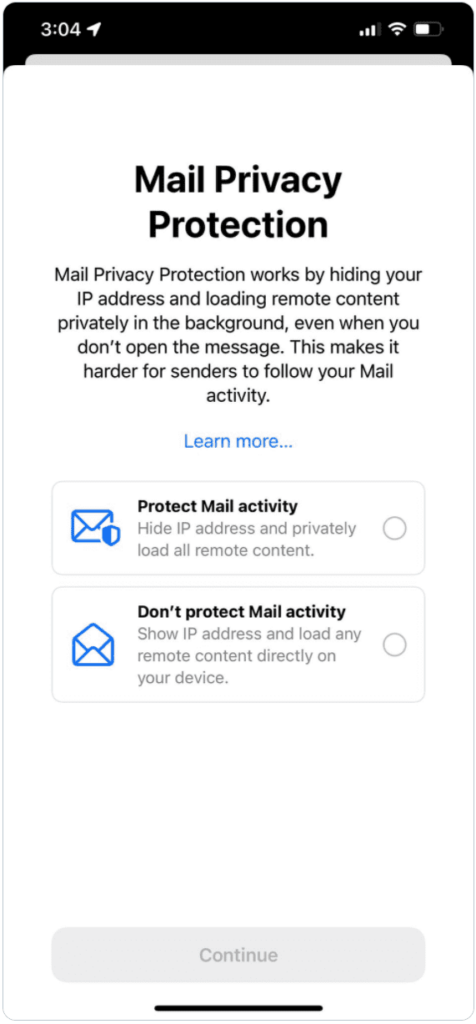 We are going to help you answer these questions now 👇
Which email statistics are concerned? 
Apple MPP and open rate: understanding the statistics  
👉 Keep an eye on these statistics
Go to your email router to analyze your statistics.
Since the IOS 15 update, non-human opens from Apple Mail are counted in opens and openers.
👉 Segmentation of your campaigns
When you target openers, you also target Apple Mail openers. 
As explained above, some of them are potentially from a non-human opener. 
For those of you who use Mindbaz, don't forget that this is also the case for openers of a campaign with a certain theme. 
Lastly, you will have less information about the geolocation of your contacts.
OK, now you understand the impact of Apple Mail Privacy Protection. How can you optimize your email campaigns?
How can I optimize my email campaigns following the Apple update?
Mindbaz is adapting to Apple Mail Privacy Protection
Mindbaz allows you to measure the impact of Apple MPP on your campaigns by providing a filter in your campaign statistics.
With the "switch" button, decide to include or exclude Apple MPP opens from your statistics. By default, they will be included. 

Why is it so useful?
You'll see how automatic opens are affecting your statistics

Find out if your Apple users who have enabled Data Protection are behaving like the majority of your audience

If your click-to-rate has dropped, understand why
Rethink your email marketing strategy
Understand Apple Mail Privacy Protection ✅
Analyze your campaign statistics with Apple MPP in mind✅
Know to what degree you are impacted by Apple MPP ✅
Your email strategy now. If…
➡️ your open rate has dropped:
Check the spam rate of your email campaigns

Work on your email subject lines


They must be short, punchy and avoid spam words

Contact your email router if the open rate remains low
➡️ your Apple audience doesn't behave like your Android audience
Create a specific segment: Apple or even Apple MPP

Identify their pain points

Create dedicated relaunch campaigns
➡️ your click-to-rate has dropped
Imagine a strategy that relies on the incentive to click

Change the text of the call to actions (the call to action buttons)

Use A/B Test campaigns

The trick to successful AB test campaigns: Change one, and only one, aspect between two campaigns. For example:

🔎 The Call to action position

🔎 The title

🔎 An image

🔎 The color of your buttons

🔎 The text of the call to action
Work on your #email subject lines to #boost your #stats 🔥

They must be
1⃣ short
2⃣ punchy
3⃣ without spam words

EASY TRICKS
Turn it into
❓a question
📜a list
🎯a goal

Bonus
🗞️bounce off the news
➰personalized your subject line
🧠use emojis

Ready? More tips on our #blog

— Mindbaz (@mindbaz) July 28, 2022
Is Apple Mail Privacy Protection a good thing? 
On the marketing side: a novelty that is bound to develop
A growing trend
Keep in mind that this trend is bound to grow. Rather than wondering if this is good news, think of Apple Mail Privacy Protection as a way to identify your audience's concerns. 
An engaged audience
If the majority of your Apple audience doesn't have the option turned on, you can deduce that they are willing to give you information. They're probably eager to receive highly personalized content. This is an advantage for you: 
This signal tells you that your audience is made up of users who are ready to be solicited. Don't disappoint them!
An audience attentive to the use of personal data
If your audience has overwhelmingly embraced the Apple MPP update, don't worry: they are sensitive to the protection of their personal data. No wonder: our behavior is constantly being studied and analyzed. 
To make matters worse, we are aware that the situation could become more complicated for personal data. In China, for example, personal data is increasingly becoming less protected. 
Black Mirror has also shown the dangers of the massive use of this data. 
It is not surprising that your audience is sensitive to it. 

What can you do? 
Reassure them about the data you collect

What you do with it

On how long the data will be kept

Be educational and patient
If you follow these tips, your statistics will improve!
How can I easily follow Mailbox Service Provider updates? 
Email stakeholder groups
Join and follow email industry groups like the Digital Marketing Association that regularly communicate what's new. They are attentive to trends and are a good way to stay up to date on emailing news.
Twitter email lists
Twitter is THE social network for continuous, fast and pertinent information. 
We have created a list with the most important accounts that talk about email: associations, Mailbox Service Providers, Internet Service Providers, email routers, content curation accounts… 
Follow the list to receive directly the information on your account. 

Blogs on email and deliverability news
If you're looking to understand what's new and get detailed advice, blogs are for you. 
On our blog, Mindbaz experts cover email marketing news. We also explain the latest techniques and technologies to help you.