For e-tailers, Christmas is the most important time of the year. Over a few weeks, you can expect your sales to increase significantly. The Mindbaz team uses its 10 years of expertise to help you make your Christmas email campaigns a success.
Segment your database to convert
Even before you launch your Christmas email campaigns, you will need to prepare your database. You need to make sure that you have enough data to accurately target your prospects.
Segmentation allows you to control which parts of your audience you'll target by intelligently breaking it down into parts. Each segment groups together several contacts who have a common characteristic. Your job is to use the right identifying factor so that the interest of your message is multiplied.
In this step, you'll quickly identify the arguments that will convince your audience to carry out the desired action.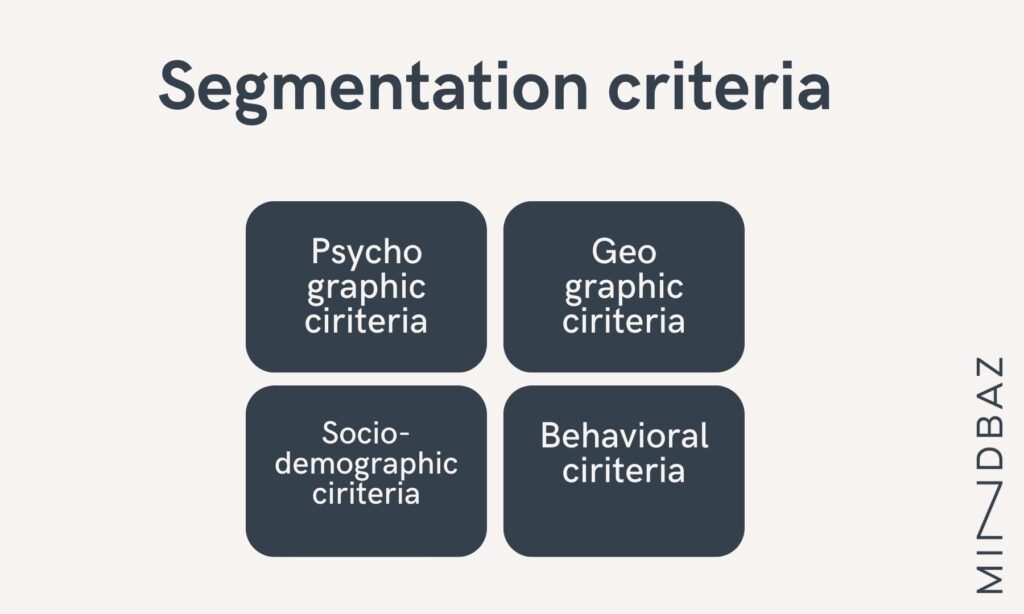 Generally, there are 4 types of criteria:
Psychographic criteria

Values
Interests
Personality
Things they like…
Geographic criteria

Place of birth
Where they live
Vacation spots…

Socio-demographic criteria

Gender
Socio-professional category
Income
Education…

Behavioral criteria

purchases
fidelity to brands
channels used
average amount spent on a transaction
how they have things delivered…

These criteria are particularly useful at Christmas time.

Even lesser interests can make a difference: your prospects are looking for gifts. Some people can't give anything they don't like.
The segmentation allows you to prepare the 2nd step for your Christmas campaigns: Personalization.

Personalize your emails for Christmas
Focus on each criterion
This step will help reinforce the effectiveness of your emails for the holidays.
Use the criteria chosen during the segmentation. For the same campaign, use the criteria to personalize:
The address of the nearest store
The offer
Images
Arguments
Yes, your arguments will be more effective if they are different from one segment to another.
This is especially true for Generation Z. Beware of generalities that may not be true for your audience.
However, studies on this generation, born between 1997 and 2012, are multiplying and some trends can be identified.
Focus Gmail : 4 idées reçues sur la délivrabilité analysées
An example of personalizing your Christmas emails: Generation Z
Permanently connected, Gen Z represents 32% of the world's population.
Even if this generation is not yet in your target audience, be prepared to adjust your arguments and your strategy.
Here are 3 Gen Z trends that will impact your Christmas and other emails:
48% of Gen Z has an adblocker
This distrust of advertising is gradually becoming more widespread. If influencers are attractive to this generation, it is not the case for all of them. We notice a trend towards micro-influencers who gather a small but very committed community. Trust is the basis of exchanges for them.
They open more emails that contain their first name
They will open an unopened email to remove the bold in their mailboxes or make the notification disappear
They have at least two email addresses: 1 for their important emails and 1 for newsletters, advertisements or secondary messages.
These statistics show us that if this generation has not abandoned email, it is appropriating this channel and changing their habits.
How to reach Generation Z?
Based on our analysis, here are some tips for your Christmas campaigns aimed at Generation Z:
Build on transparency and trust. Do not make false promises.
Customize emails with specific fields and personalized information
Focus on the click-through rate rather than the open rate, especially since the arrival of Apple Mail Privacy Protection (Apple MPP)
Create a visual and sound identity that will help create a link with this audience. This can be done through expressions and habits in your emails, but above all through what you write
The content of your email: knowing how to convince
Christmas is coming. Your contacts have received your email. Now, how do you convince them to open the email? To read it? To click on the call-to-action?
Write an effective email subject line
You need to start with the objective of your Christmas campaign:
Improve reputation
Drive to store
Acquisition
Web traffic
Contests…
Depending on the objective, the action you indicate will be different: Make an appointment, RSVP, Save time, Enjoy…
Once you have your goal and action, think about what your subject will look like.
"How can you improve your email deliverability?"
"Top 10 tips for your email campaigns"
"Boost your click-through rate quickly"
3 conseils pour un bon objet d'#email

🔹 court
🔹 qui rebondit sur l'actu
🔹 personnalisé#ConseilsEmailing #Objet #Tips pic.twitter.com/d53rcZATuR

— Mindbaz (@mindbaz) October 3, 2022
Let's go back to personalizing your message. This tip is just as useful for your email subject line:
Use news to attract attention
If St. Nicholas is part of your audience's culture, don't hesitate to use this information
For example, if your segment is parents and your goal is to drive traffic to the toys page of your site:
"5 family activities for St. Nicholas"
Take your audience data from part 1 of this article
For example, if you sell sports equipment and your segment includes basketball players
"Doctor's advice: change your sneakers every year. Here's the Christmas gift card to ask for"

If your subject is too long, consider putting the 2nd part in the headline
The call-to-action: UX Writing techniques to convince people to take action
A call-to-action is the button that leads to a landing page outside the email.
As its name suggests, it pushes your audience to perform an action that is related to the objective of your campaign.
Talk about what your audience will gain
You only have a few seconds to convince them to click. So be specific and persuasive. Explain the action your contacts must perform.
For example, rather than saying:
"Read more"
Say
"Discover toys for 7-11 year olds"
Rather than
"Registration."
Say
"Receive our monthly newsletter"

How entertainment moves your audience to action
As we know from Clifford Nass, humor helps create a relaxed environment. Humor also makes it easier to read your message and will encourage your audience to take action.
If your reader is enthusiastic, they will be more motivated and will tend to take more risks.
Look for ways to generate enthusiasm.
What about confirmshaming?
Confirmshaming is when a company manipulates its reader by making them feel guilty for not taking an action.
These texts seek to belittle the reader by arguing that not doing the action is stupid.
For example:
"No thanks, I don't want to have a good Christmas with my family."
Don't fall into the trap. These techniques will drive your audience away. Christmas is a time for sharing. Focus on generating positive emotions for your readers in order to build trust and loyalty to your brand. Make them laugh and smile.
Evitez les spam words pour vos campagnes de Noël : listes et conseils
An idea for your content: the email advent calendar
You announce that you are going to send an email each day at a specific time. Explain the objective of this advent calendar.
Your goal can be :
One local or original gift idea per day. Be specific
A tip for preparing the holiday season
Start with a list of 24 tips. For example, come up with 24 ideas on how to save money during December and still make your loved ones happy.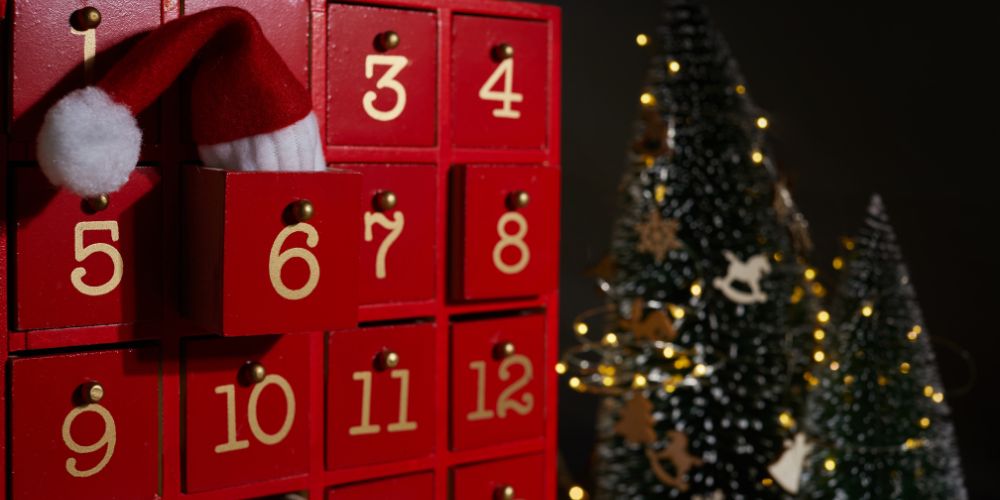 A special Christmas design
Take advantage of December to put on your holiday colors. You don't have to dress your entire identity in green and red.
But by adding a few details, you are sending a signal to your reader: it's almost the holidays, a time for family and friends.
A Christmas hat, some glitter, gold, snow, a fire in the fireplace … there are many possibilities for the holiday season. Many symbols remind us of this period.
Even if your target audience does not adhere to the Christian values of Christmas, you can use winter and family time to evoke the holiday season.
Mass emailing for Christmas: are you ready?
Get through spam filters
Webmails like Orange use several spam filters to protect their subscribers.
Spamhaus, cloudMark… protections are evolving rapidly and your strategies must adapt.
Anticipate complaints due to the increased volume of Christmas emails
Complaints can increase for several reasons:
Too many messages received

Offers not in line with expectations

Identical incoming messages (watch out for risky, oversent campaigns)

Subscription errors

A disappointment following a purchase

Technical problems in reading emails
source: EMA 2018 SNCD study conducted by Predictys

Use segmentation to avoid receiving too many complaints. But above all, be transparent with your audience about the frequency and the reason of your emails.
Signals to take into account for your email campaigns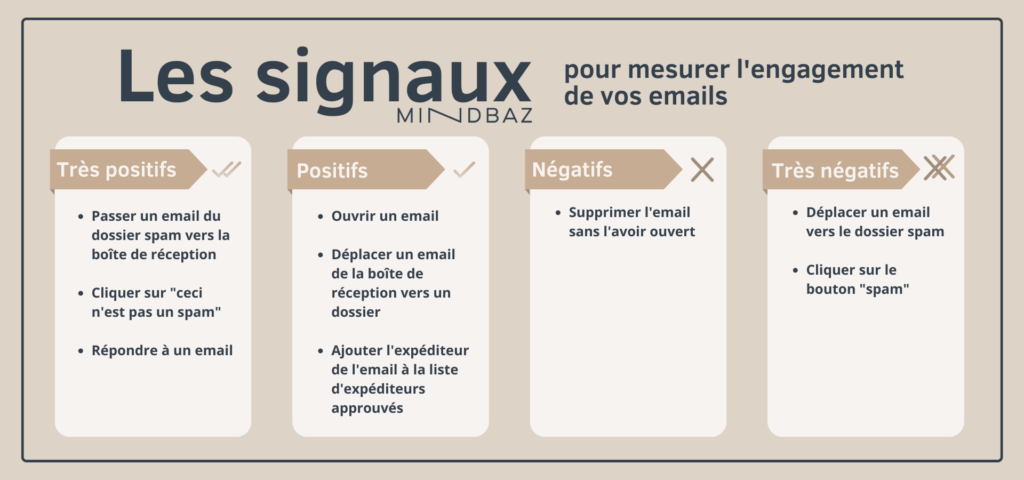 To avoid generating negative signals, prepare your mass mailings as early as possible.
Prepare your emails yesterday
Control the volume of your mailings before Christmas
If you don't send many emails the rest of the year, prepare your audience little by little.
If you flood them with emails all of a sudden, webmails like Gmail, La Poste or Orange may penalize you. Your deliverability rate will be negatively impacted.
Warm up your IPs slowly: start sending emails several weeks before with different objectives.
This is the perfect time to work on your brand awareness.
Once you have increased your sending volume, you can start sending marketing and advertising emails.
Take advantage of the weeks before the holidays to reactivate your inactive contacts
Inactive contacts are those who have not responded to your emails for months. No clicks, no opens, no folder changes.

Christmas is the perfect opportunity to re-engage with them: They are looking for gift ideas for their loved ones, and for themselves.
First, identify them. Group together all those who have not interacted with your emails in over 6 months.
Then create a campaign of 3 or 4 emails specifically for them. Remember to look at the complaint rate of this segment to adjust your emailing pressure.
You have already managed to convince these people. Keeping them is easier than convincing the next ones!
[Extrait #3 #LaBazPodcast]

Comment réactiver ses contacts #email inactifs ?

🎙️Agathe explique clairement
1. Quels #inactifs réactiver
2. Comment les réactiver
3. Les #KPIs à suivre

👉 https://t.co/26oQphPWVA#BDD pic.twitter.com/kXljjkV8yQ

— Mindbaz (@mindbaz) November 21, 2022
A/B testing: learn from the results for your Christmas campaigns
AB tests are essential to optimize the effectiveness of your campaign. Take a sample of your audience and separate it into two groups.
For the first one, you will send your campaign as planned. For the second one, send the same email but change only one detail:
the object,
a color,
your call to action,
the image,
the email offer…
Look at the campaign that performs the best and send the most successful one to the rest of your audience.
If you run A/B test campaigns throughout the year, use the results to make the best Christmas campaigns.
Pensez aussi aux campagnes SMS pour Noël : conseils opérationnels